Want your guitar to sound like an organ, a mellotron or a synthesizer? Thanks to the brilliant minds at Electro-Harmonix it's easy and it doesn't take extra gadgets and gizmos to do so.
EHX has really been busy helping guitar players expand their soundscapes. Below are a few pedals Electro-Harmonix has released in the last year that can help you achieve sounds once thought impossible. By the way, this isn't an ad. Some players are unaware of this technology. As a guitar player I have always wanted to expand my sound pallet. There have been plenty of times I wished I could have transformed my guitar into a Rhodes piano if only for a small part of a cover song. There are just some songs that can't be translated through a 6-string without the aid of a synth pedal.
This blog highlights each pedal at-a-glance. To really dig in and hear them in action you'll want to check out online video demos or take a test drive at your local music store.
Electro-Harmonix B9 Organ Machine
A very interesting pedal with 9 presets that were finely tuned to emulate the most legendary organs from the '60s and beyond, the B9 Organ Machine will transform your guitar or keyboard. Control the instrument's signature percussive click and sweet modulation. Blend your dry signal to create lush layers. Enough tonewheel and combo organ inspiration to light your fire and cook up some green onions!
The B9 has a five-knob setup that allows you to control the level of the dry and organ signal, plus a mod and click control. The bottom knob moves you through nine different organ types such a classic rock organ or a cathedral. On the left side of the pedal there are individual outputs for dry or organ signal. One thing I love about these pedals is the tracking. In the past this has been a problem with synth pedals. They would only work on single notes and even then some sounded shrill and warbley. EHX has put this issue to bed. Chords ring out and note separation is cohesive and rolls like a well oiled machine.
Electro-Harmonix C9 Organ Machine
The C9 Organ Machine springboards off the revolutionary B9 to mine another rich vein of classic gold and provide players with nine more definitive organ and keyboard sounds. The C9 will transform your instrument into a convincing full body, electric organ or vintage electronic keyboard. For each preset chosen, it also provides precise control over important elements of that sound's sonic fingerprint like percussive click, modulation, attack/sustain, drawbar setting or high frequency content. Blend your dry signal to create beautiful layers. This pedal can also be used with keyboards.
The C9 seems to be more versed for classic rock organ sounds, think Deep Purple, The Doors, The Beatles, Edgar Winter, when compared to the B9. Don't get me wrong, the B9 has a plethora of those sounds as well. Moving along, the Shimmer effect is really cool on lead parts. One can create Pink Floyd's "Shine on You Crazy Diamond" tone with this effect adding in some grit and analog delay.
Electro-Harmonix Key9 Electric Piano
Completing the powerful trilogy forged by the B9 and C9 Organ Machines, the new KEY9 emulates the world's most coveted electric pianos and more. With 9 presets, you can transform your axe and lay down a cool "Riders on the Storm" style groove or some hot funk ala "What'd I Say!" The Electro-Harmonix KEY9 Electric Piano Machine emulates the sound classic electric pianos from the '70s including modes for Rhodes and Wurlitzer-style instruments.
The Key9 is pretty convincing to say the least. I can hear the ivory keys slapping wood. Rich and full sounding the Key9 supplies a healthy dose of upper and lower harmonics.
Dynamo, which is preset one emulates a modified '70s/'80s Fender Rhodes. Ctrl 1 adds bass and Ctrl 2 adjusts the tine sound (that bell-like tone at the attack of the note). The Wurlitzer is sharp and smooth with Ctrl 1 adjusting the tremolo depth and Ctrl 2 the speed. The Suitcase circles back to a Fender Rhodes, this time played through a phaser. Ctrl 1 adds a bass octave while simultaneously tweaking the tine overtones, and Ctrl 2 determines the phaser speed.
Preset 4 is Mallets which emulates the sound of a wood marimba and quite well I might add. The Ctrl 1 adjusts chorus depth and Ctrl 2 the speed. Next up is the Eighty-Eight, conjuring the soul of a Fender Rhodes 88 electric piano, this time with tremolo. Ctrl 1 adjusts depth and Ctrl 2 speed. Preset 6 is the Tri-Glorious. A funky sound based on a Dytronics/Dyno with a chorus effect. Ctrl 1 adjust the depth and Ctrl controls the rate. On to the Vibes, for which Ctrl 1 adjusts the timbre of the attack and Ctrl 2 the tremolo rate.
The organ sounds great, very warm and smooth. It's quite touch-responsive, and is treated with a rotary speaker effect. Ctrl 1 adjusts the treble and Ctrl 2 adjusts the mod speed. And lastly Preset 9 is steel drums with chorus. You'll be wisped away on some beach in Jamaica with a fruitty drink in one hand and the guitar in the other. It's realistic but I'm not sure how often you'll need to use the steel drums unless you're in a reggae band. Ctrl 1 adjusts the mod depth and Ctrl 2 the speed.
Electro-Harmonix MEL9 Tape Replay Machine
The EHX MEL9 takes the electric guitar to whole other level. Guitarist now have access to nine magically quirky, dark and unique Mellotron® sounds. No more extra devices such as cumbersome 13-pin MIDI pickups! In addition to electric guitar, you can trigger the MEL9 with any instrument that produces an electrical output, such as a keyboard or a bass, down to 55 Hz or A1.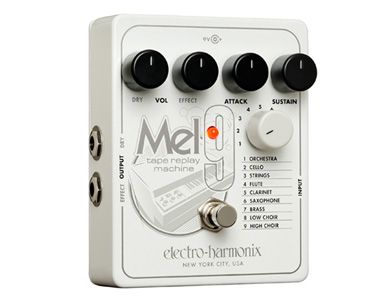 The tonewheel includes Orchestra, Cello, Strings, Flute, Clarinet, Saxophone, Brass, Low Choir and High Choir. Orchestral creates a sound right out of a classic horror flick. I can visualize the phantom waning back and forth in a fit of chaos and insantity. Number 2 is Cello, which sounds very convincing. This setting sounds more realistic on lower strings up to the 12th fret. It tends to get a little soft playing high up on the neck. The Flute delivers the 'Strawberry Fields'/'Nights In White Satin' tonality, while the Clarinet and Sax are are bold and raspy, they'll need to be tweaked through the amp to achieve a true voice. Brass sounds are great but again need to be tweaked, while the two Choirs are airy, thick and large, complete with warbly vibrato. Overall this is a fun pedal to play around with and will deliver a set of much needed sounds for a home studio.
Electro-Harmonix Synth9 Synthesizer Machine
Anyone up for a Flock of Segulls? The Electro-Harmonix Synth9 Guitar Synthesizer Machine will add another dimension to your sound. Play classic 70's and 80's synth lines right on your guitar without the hassle of special pickups or MIDI implementation, plug in and play. The whole EHX 9 line is brilliant and somehow they have mastered these pedals with true tracking. The tracking range extends up to about the 23rd fret on the high-E string of a standard guitar and down to the open A-string on a bass guitar. Some synth pedals claim to track your notes or chords without distorting or blurring but they don't live up. The Synth9 delivers the goods. With nine presets and some of the most sought after synth tones you'll find yourself with endless possibilites to create your own masterpiece.
Electro-Harmonix Founder, Mike Matthews, stated: "The Synth9 may be the greatest member of our 9 Family of pedals yet! From searing lead synths to spacey synth pads and deep, funky synth bass grooves, it's all accessible."
The Synth9 is very similar to the Key9 in layout. Both use two control knobs which act as different parameters depending upon the preset. The Synth9 is generally best used as the first pedal in an effects chain as are all of the 9 series pedals. Place modulation, delay, and reverb effects after the Synth9. The unit will not perform well if placed in the effects loop of a guitar amp.
There you have it. The Electro-Harmonix Series 9 in all it's glory. My assessment is you'll be hard pressed to find anything better at the price point of $221.00. There are many presets between all five pedals and it's fair to say the average guitar player probably won't use some of them, however if you're in a cover band with no one on keys these pedals wil open up your next set list. With so many unique sonic qualities. I see these organ and synth pedals as invaluable tools for the home or project studio. They play nice on stage too. If you have any questions regarding these pedals please feel to call or email us for more information.